As Chinese New Year begins on January 23rd, we wanted to kick off the celebration with some festive books and ideas. It's a great holiday to celebrate with your family, and teach your children to understand the customs of different cultures. It's been about a month since Christmas, and I think we can all continue to be grateful for the things we had over the holidays. We found a wonderful blog that educates people on Chinese Culture called
Chinese For Families
, and they have a great number of recommendations for celebrating Chinese New Year, as well as educating about the Chinese culture through books, apps, and more. One book they recommend for preschoolers is
My First Chinese New Year (Scholastic):
The characters and colors are adorable and engaging for young readers. Here's more from the
Scholastic synopsis
:
"Hooray! Hooray! Soon it will be Chinese New Year."
A fun and colorful way to introduce the Chinese New Year to young readers Chinese New Year is a time of new beginnings. Follow one little girl as she learns how to welcome the coming year and experience all the festivities surrounding it. This warm and lively introduction to a special holiday will make even the youngest child want to start a Chinese New Year tradition!
They also recommend: Legends of Ten Traditional Festivals (bilingual CH/Eng) published by Dolphin Books. But their blog also holds a plethora of information about the Chinese New Year, and how one can participate in celebrations. And it seems the holiday is longer than just a few days, it goes on for a few weeks before the New Year, and days after New Year's Day. New Years Eve is a fun holiday for many families, and Chinese For Families blog does a great job of sharing the customs: Here's a story of a New Year's Eve tradition they feature, great for youngsters interested in the holiday:
The Story of Nian (click for a pdf version) According to legend, the Nian 年 monster came down from the mountains or out of the sea every new year's eve to terrorize families.  Each year the villagers would flee and hide in the mountain caves.  One year, an elderly man entered the village and provided sage advice.  Decorate your homes with with red lanterns 燈籠 denglong, bright chunlian 春聯, and stay up past midnight setting off fire crackers and making noises.  The bright red color and noise will frighten Nian 年 into thinking the village is filled with fire.  The ruse worked year after year and Nian 年 never returned.  The new year wish "過年了 guo nian le" refers to this success – Nian 年 has passed by.  For this reason, firecrackers are set off at midnight on new year's eve.  In ancient China, bamboo served a similar purpose.  It was heated till it cracked making noises 踩歲 caisui like firecrackers. 
It's wonderful to see books that celebrate Chinese culture in general, even if not necessarily based on Chinese New Year. These books illustrate aspects of traditions and cultures that otherwise may be unfamiliar to your families, and will introduce you to some wonderful writers and illustrators: Grace Lin is probably the most notable writer/illustrator with a focus on Chinese traditions and culture at the moment. A Rhode Island School of Design alumni, she began illustrating children's books after graduation, and realized over the years that she loved working on Asian stories. Soon, she began embracing her heritage, despite hesitance from her agents, and has created a collection of sophisticated and charming picture books, and most recently, chapter books. She is quite a wonderful storyteller, and has stories out there to entertain kids of many ages:
From Grace's
website
:
In English, dim sum means "little hearts," or "touches the heart," but to this young girl, dim sum means delicious. On a visit to a bustling dim sum restaurant, a family picks their favorite little dishes from the steaming trolleys filled with dumplings, cakes, buns, and tarts. And as is traditional and fun, they share their food with each other so that everyone gets a bite of everything. Just right for young children, Dim Sum for Everyone! celebrates a cultural custom and a universal favorite activity–eating!
From Grace's
website
:
This exuberant story follows a Chinese American family as they prepare for the Lunar New Year. Each member of the family lends a hand as they sweep out the dust of the old year, hang decorations, and make dumplings. Then it's time to put on new clothes and celebrate with family and friends. There will be fireworks and lion dancers, shining lanterns, and a great, long dragon parade to help bring in the Lunar New Year. And the dragon parade in the book is extra long–a surprise fold-out page at the end of the story. This story is tailor-made for reading aloud.
And finally, my favorite pic of Grace Lin's – Her chapter book
Where the Mountain Meets the Moon:
From Grace's
website
: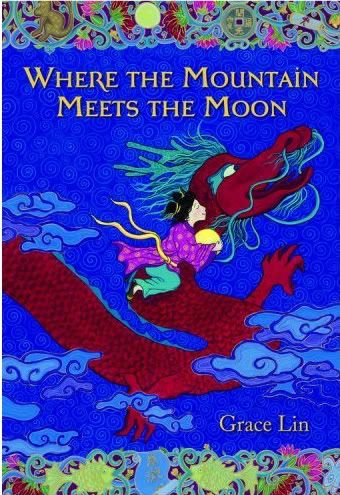 In the valley of Fruitless mountain, a young girl named Minli lives in a ramshackle hut with her parents. In the evenings, her father regales her with old folktales of the Jade Dragon and the Old Man of the Moon, who knows the answers to all of life's questions. Inspired by these stories, Minli sets off on an extraordinary journey to find the Old Man of the Moon to ask him how she can change her family's fortune. She encounters an assorted cast of characters and magical creatures along the way, including a dragon who accompanies her on her quest for the ultimate answer. This is a wonderous novel with an epic journey and memorable characters in the tradition of The Wizard of Oz. From the beautiful design and the breathtaking full-color illustrations throughout, to the gentle humor and touching prose, this book is truly a gem. (for grades 3-6)
A recent title just released from Candlewick is another great pick for Chinese New Year – special for this year too! – called
A New Year's Reunion:
From Candlewick's
website
:
Welcome the Year of the Dragon, January 23, 2012!
Little Maomao's father works in faraway places and comes home just once a year, for Chinese New Year. At first Maomao barely recognizes him, but before long the family is happily making sticky rice balls, listening to firecrackers, and watching the dragon dance in the streets below. Papa gets a haircut, makes repairs to the house, and hides a lucky coin for Maomao to find. Which she does! But all too soon it is time for Papa to go away again. This poignant, vibrantly illustrated tale, which won the prestigious Feng Zikai Chinese Children's Picture Book Award in 2009, is sure to resonate with every child who misses relatives when they are away–and shows how a family's love is strong enough to endure over time and distance.
Maomao's dad works many miles away, but he is coming home for New Year!
Of course, no book list would be complete without something just too cute. From the creators of Spoon, Fork, and Spork, comes the saga of Chopsticks (which is appropriately Chinese New Year themed!):
It was recently reviewed by the folks at
CoolMomPicks
who write:
Amy's story, accompanied by Scott Magoon's adorable illustrations, is centered on the friendship of a pair of Chopsticks. What happens to the pair when one chopstick suffers a broken stem that takes him out of commission for a while? As our daughter already loves to personify everything in our house, she definitely got a major kick out of the utensils and other household items lending their two cents to the situation. 
If you are curious what one chopstick can do on his own I encourage you find out. It might just give you some ideas on what to do with that solo one in your kitchen junk drawer right now. – Stephanie M
No matter what your celebration is, Happy New Year!